Tanya is a yoga teacher and artist living in Joburg, South Africa.
ONLINE YOGA CLASSES:
Zoom Hatha Yoga: Mon 8:30-9:30am      Zoom FLow Yoga: Wed 8:00-9:00am
Zoom Yoga Experience Studio:        
Thursday 6-7pm
To join Tanya's live Zoom Yoga classes email  bendiyogi@hotmail.com
ABOUT TANYA
Tanya studied art at UCT Michaelis Scool of Fine Art, Cape Town, graduating to become a New Media Designer. In 1999 she won a Gold Lorie Award for designing the Madam & Eve website. She worked as a designer in London and traveled for a few years in the Far East before changing careers to become a full-time Yoga Teacher in 2006. Tanya currently teaches Yoga full-time in Joburg, while her creative focus is now on oil painting and nature surrealism, predominantly working in graphite pencil drawing.
contact Tanya at: bendiyogi@hotmail.com
Tanya's other websites are:
www.yogaforathletes.co.za      www.blissyoga.co.za
May our Minds be open to the Divine Light that guides us.
May our Hearts be open to the Divine Love that surrounds us.
May the Angels keep us,
And Bless us,
And bring us Joy.
– Namaste –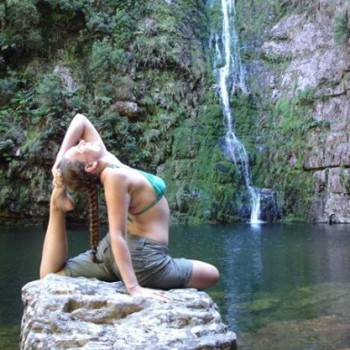 "To laugh is to risk appearing a fool.
To weep is to risk appearing sentimental.
To reach for another is to risk involvement.
To expose your ideas, your dreams, before a crowd is to risk their loss.
To love is to risk not being loved in return.  
To live is to risk dying.  
To believe is to risk despair.
To try is to risk failure.
But risks must be taken, because the greatest hazard in life is to risk nothing.
The people who risk nothing, do nothing, have nothing, are nothing.
They avoid suffering and sorrow, but they cannot learn, feel, change, grow, love, live.
Chained by their attitudes they are slaves; they have forfeited their freedom.
Only a person who risks is free."
– WILLIAM ARTHER WARD –